Download MP3
Partners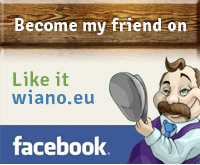 Contact
We sincerely invite all the hobbyists to cooperate with us.
If you want to tell us how a tradition is cultivated in your region or how many places worth seeing have survived, please contact us. If you want to share your impressions, stories relating to folk culture, we offer our website.
We invite ethnographers
If you think you have something interesting to pass on to others, if you want to share your observations with colleagues, hobbyists or you want to save the achivements of Polish folk from oblivion, our website is perfect for you.
We invite all the enthusiasts of folk prouction
If you are possionate about lace, embroidery, sculpture, paper cut-outs and other folk handicrafts, we are the source of information for you. Also - if you have advice for others - please do not hesitate to contact us.
Send us your tips, photographs and information.
The address of edtitorial office:
Osiedlowa 4, Zielonki-Wieś
05-082 Stare Babice
Poland
e-mail: portal@wiano.eu
Advertising:
Iga Łomanowska
mobile: 693-419-748
email: i.lomanowska@gmail.com
ADV